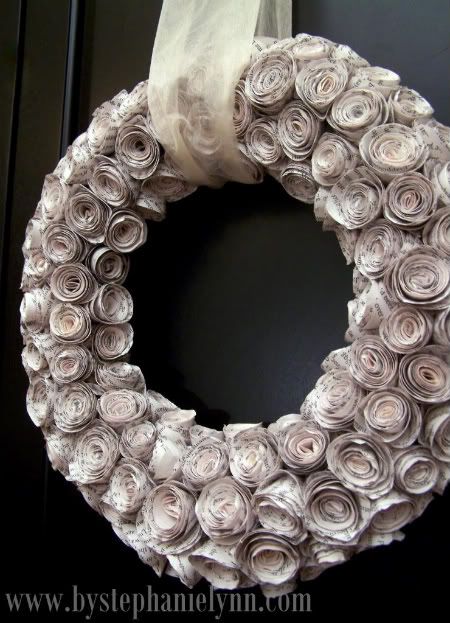 It will be perfect on my front door right after the Christmas wreath comes down... but my Christmas wreath won't make it's debut until after Thanksgiving this year. (Thanksgiving, I'm committed to you this year! No skipping over you, PROMISE!) And I love the $1 pricetag! This should make up for the $40 in supplies I spent on my shameless copycat of
Meredith'
s copy (did you ever finish it, Hon?) of
Tatertots and Jello's Modern Fall Wreath
that was a take off of
Amy Butler's door in Mary Englbreigt Home Companion Christmas Magazine
! (And isn't it so funny how we all learn from each other, but put our own fingerprints on what we do? I love it!) But it turned out oh-so-cute, at least I think so!
I'm also making some
decorative clipboards
. I've started one for each member of the family to hold our routines and the kids' chore charts. I chose legal sized clipboards so that some of the decoration could hang down below the papers. We were pretty well on track with our routines at the beginning of the school year, but having them posted in the kids' rooms made it harder to enforce. So, the new clipboards will find a home in the laundry room near the kitchen and hopefully will add some new life to structure and routine at our house!
I'll show you their routines and chore charts. I plan on laminating them and use Vis-a-Vis markers to check them off each week, so we can be just a little greener!
Guess I'd better finish up those two projects before I start working on the other ones floating around in my head. Oh, that reminds me! Maybe Justus' "10 Things I Love About You" album arrived in the mail.